The Lord of Sipan: Tombs and pyramids
Chiclayo, capital of the department of Lambayeque, is a bustling, commercial city, 769 km. (480) miles north of Lima, only a short distance through sugar cane fields from the famed Moche mausoleum of Sipan. After its discovery and unearthing in 1987, Sipan's tombs have yielded a wealth of dazzling gold, silver and copper jewelry dating back to around 300 AD. Ongoing excavations are uncovering even more gold-filled tombs.
The archaeological museum in Lambayeque, directed by Sipan discovered Dr. Walter Alva, provides visitors with an introduction to the pottery and textiles produced by the cultures that lived in these northern valleys. North of Chiclayo lies Tucume, a complex of 26 large mud-brick pyramids surrounded by smaller structures dating from pre-Inca times and the largest complex of its kind in coastal Peru.
Archaeologists headed by Norwegian explorer Thor Heyerdahl have uncovered remarkable mud-brick friezes and fine pottery, displayed in a small site museum, From Chiclayo you can drive to Trujillo or to Cajamarca.
* If you are interested in any of the following tours, go to our
contact form
.
DAY 3 / CHICLAYO - TRUJILLO
In a 3 hours trip toward South, will be able to appreciate the different valleys fertile and important sugar country properties . Arrival in Trujillo for a city tour, including beautiful colonial mansions with their well-preserved, imposting portals, balconies and churches Visit to the private Cassinelli museum or to the university museum. continue to the seaside town of Huanchaco to enjoy the beach atmosphere and watch the local fishermen on their `caballitos de totora` reed boats. (B)
* Daily departures.
H/D CITY AND WITCH MARKET
A visit to the cathedral and principal attractions of Chiclayo is followed by a stop at the witches market where shamans, or folk healers, sell the herbs and paraphernalia used in their healing sessions.
* Daily
SHAMAN SESSIONS

A 5-hour session that begins at 10 PM in a field 5 kilometers from the archaeological site of Tucume. These healing sessions are performed by the `shaman`, or folk healer, who uses a blend of traditional medicine along with ancient and Christian beliefs.
The ceremonies include the hallucinatory `San Pedro` beverage (optional), and canticles with herbs, perfumes and stones that infuse the visitor with spiritual and physical strength.
* Only on Tuesdays and Fridays.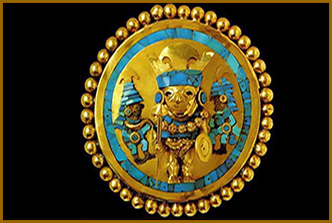 KUELAP

The Lost Fortress: The Inca's cloud forest
Located in the northeastern Peru, Kuelap, a majestic fortress, rises above the forested valley of the Utcubamba and is one of the most important archaeological monuments in the Americas. Its mystery has attracted explorers and scientists forever.

* If you are interested in any of the following tours, go to our


7 DAYS / 6 NIGTHS
DAY 1
Arrival in Chachapoyas. Departure by horse to Belen Valley (5 hours) for camping at 2,800 meters (9,200 ft.).

DAY 2
Departure to Vista Hermosa, for a 4-hour ride along a pre-Inca road where walls and circular buildings from the Chachapoyas culture can be seen. Arrive to Vista Hermosa at 1,700 meters (5,700 ft.). (B, L, D)

DAY 3
One-day visit by horse to the Chachapoyas tablets remains of writing with phoenician properties characteristics and the nearby ruins at 1,850 meters (6,150 ft.). (B, L, D)

DAY 4
Early morning to visit and explore (horse and trekking) the Kakahuasha ruins at 2,850 meters (9,500 ft.). Afternoon returns to a local lodge and enjoy our tidepool in the Vilaya River.

DAY 5
Day to rest and interact with the indigenous people of Vista Hermosa: we will prepare molasses or harvest coffee with them. (B, L, D)

DAY 6
Depart from Gran Vilaya. Travel across the Cordillera de Yumal at 3,300 meters (11,000 ft.). One-day trip by horse and van to Villa Consuelo Lodge. (B, L, D)

DAY 7
Early morning visit to the Fortress of Kuelap. Afternoon visit to the sarcophagi at Karajia. Overnight at Villa Consuelo Lodge. (B, L, D)

DAY 8
Transfer out.
* Departures subject to flight schedule.


---